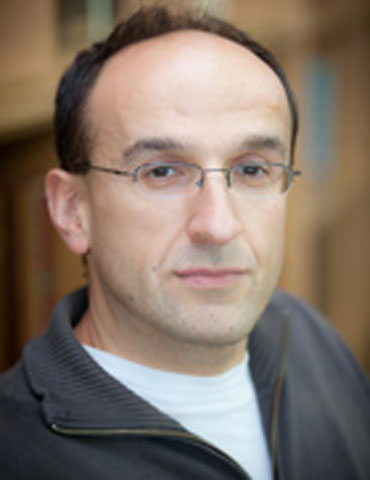 Zisis Melissakis
Senior Researcher NHRF, Teaching Associate, Τ.S.C.C.
Theological School of the Church of Cyprus
Isokratous 1-7, 1016 Nicosia, Cyprus

Fax: 00357 22 443 050

Email: z.melissakis@theo.ac.cy
Profile: Dr Zisis Melissakis is Senior Researcher at the Institute of Historical Research (Section of Byzantine Research) of the National Hellenic Research Foundation. His research focuses mainly on monastic libraries, particularly Mount Athos and Patmos through palaeographical, codicological, as well as historical and archival topics. His current principal work concern the cataloguing of the manuscripts of the Monastery of St John the Theologian on Patmos, as well as the manuscripts and old printed books of the Monastery of Iviron on Mount Athos. He has participated in a number of Greek and International research projects on the Byzantine and post-Byzantine manuscript book. Since 2002 he has been teaching Greek Palaeography at the Historical Sciences Seminars of the National Hellenic Research Foundation and has delivered lectures on the same topic in various Greek universities. During the past few years, he has organized two international summer schools on Greek Palaeography and Byzantine Epigraphy for the National Hellenic Research Foundation at the Monastery of Patmos.
Studies:
2002 Ph.D. in Greek Palaeography, Department of History and Ethnology, Democritus University of Thrace.
1995 Post graduate degree in Greek Palaeography, The Vatican School of Palaeography, Diplomatics and Archeionomy (Città del Vaticano).
1994-1995 Post graduate seminar courses in Byzantine Philology and Greek Palaeography, Faculty of Humanities, "La Sapienza" University of Rome.
1992 Diploma in History, Department of History and Archaeology, School of Philosophy, National and Kapodistrian University of Athens.
Research Interests:
Greek Palaeography and Codicology. Cataloguing and study of manuscripts, codicological research, history of libraries.
Archival research. Documentation and study of archival collections from Mount Athos and from various monasteries in Greece.
History of the Greek printed book (15th-19th c.). Cataloguing of collections of printed books from various libraries in Greece.
Selected Publications:
Restauro e rilegatura di manoscritti nel monastero di Patmos durante il periodo post-bizantino. Primi approcci, Le livre manuscrit grec: Écritures, matériaux, histoire. Actes du IXe Colloque international de Paléographie grecque, Paris, 10-15 septembre 2018 (édités par Marie Cronier, Brigitte Mondrain), Travaux et Mémoires 24/1, Paris 2020, 575-611.
Attività scrittoria presso il monastero atonita del Pantocrator durante i primi decenni dalla sua fondazione (seconda metà del sec. XIV), Griechisch-byzantinische Handschriften-forschung. Traditionen, Entwicklungen, neue Wege, (hrsg. Christian Brockmann, Daniel Deckers, Dieter Harlfinger, Stefano Valente), Berlin-Boston, De Gruyter 2020, Band 1, 233-247· Band 2, 779-788.
"Monsieur le Ministre, je fais un catalogue de la bibliothèque de chaque couvent": Minas Minoidis and the First Effort to Produce Systematic Catalogues of the Libraries of Mount Athos., Bibliothèques grecques dans l'Empire ottoman, (édité par André Binggeli, Matthieu Cassin et Marina Détoraki avec la collaboration d'Anna Lampadaridi), Brepols, Bibliologia 54, Turhout 2020, 399-410.
Ένας βυζαντινός κατάλογος χειρογράφων στη Μονή της Πάτμου ελάχιστα γνωστός, Λόγιοι και Λογιοσύνη στο Βυζάντιο. Επιστημονικό Συμπόσιο προς τιμήν του καθηγητή Κώστα Ν. Κωνσταντινίδη, Πανεπιστήμιο Ιωαννίνων, 26 Οκτωβρίου 2016 (επιστημονική επιμέλεια Παναγιώτης Γ. Αντωνόπουλος, Ηλίας Α. Γιαρένης, Δημήτριος Κ. Αγορίτσας), Θεσσαλονίκη 2019, 47-75, 243-249.
Η βιβλιοθήκη της Μονής Παντοκράτορος κατά τον 15ο αιώνα. Περιεχόμενο, προσκτήσεις, απώλειες, Αγιορειτική Εστία. Στ' Διεθνές επιστημονικό συνέδριο «Το Άγιον Όρος στον 15ο και 16ο αιώνα», Θεσσαλονίκη, 25-27 Νοεμβρίου 2011. Πρακτικά συνεδρίου, Θεσσαλονίκη 2012, 289-309.
Αρχείο της Ι. Μ. Εσφιγμένου. Επιτομές μεταβυζαντινών εγγράφων, Εθνικό Ίδρυμα Ερευνών, Ινστιτούτο Βυζαντινών Ερευνών, Αθωνικά Σύμμεικτα 11, Αθήνα, 2008.
Σταχώσεις και σταχωτές της Μονής Παντοκράτορος του Αγίου Όρους κατά τους 17ο και 18ο αι., Πρακτικά του διεθνούς συμποσίου «Το βιβλίο στο Βυζάντιο. Βυζαντινή και μεταβυζαντινή βιβλιοδεσία», Αθήνα, 13-16 Οκτωβρίου 2005, Βιβλιοαμφιάστης 3 (2008), 369-406.
Κατάλογος των κωδίκων της Δημοτικής Βιβλιοθήκης Τυρνάβου, Εθνικό Ίδρυμα Ερευνών, Ινστιτούτο Βυζαντινών Ερευνών, Πηγές 8, Αθήνα, 2007.
Βιβλιοδέτηση και ανακαίνιση κωδίκων στη Μονή Παντοκράτορος του Αγίου Όρους τον δέκατο έκτο αιώνα, Σύμμεικτα, 17, 2005-2007, 279-320.
Sul ritrovamento di un manoscritto del monastero di Εικοσιφοινίσσης, Επετηρίς της Εταιρείας Βυζαντινών Σπουδών 49, 1994-1998, 257-272, πιν. Θ-ΙΔ.