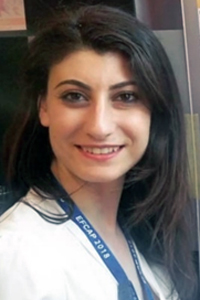 Maria Petridou
Doctorate in Clinical Psychology, Special Academic Staff
Theological School of the Church of Cyprus
1-7 Isocratous, 1016, Nicosia, Cyprus

Fax: 00357 22 443 050

Email: m.petridou@theo.ac.cy
Profile: Doctorate in Clinical Psychology, Special Academic Staff
1. Education
| | | | | |
| --- | --- | --- | --- | --- |
| Degree | Year | Institution | Department | Final Project |
| B.A Psychology | 2015 | University of Cyprus | Psychology Department | Components of Empathy and Emotion Recognition for children with Conduct Problems with or without Callous – Unemotional traits in preschool age |
| MSc in Clinical Psychology | 2016 | University of Leiden | Psychology Department | The role of stress in attentional control and in attentional bias to threat |
| PhD in Clinical Psychology | 2022 | University of Cyprus | Psychology Department | Neurophysiological Patterns associated with differentiated levels of Antisocial Behavior, Anxiety, and Callous-Unemotional Traits. The effectiveness of HRV Biofeedback training with video-games |
2. Qualifications / Skills
Description
Level
Greek
Native speaker
English
C1
French
B1
Computer
Office package- Outlook
SPSS, MadLab
Analysis of physiological data (Acknowledge 4.1)
3. Εmployment
Duration of Employment
Employer
Position
From
Until
August 2021
Now
Theological School of the Church of Cyprus
Special Academic Staff in European Programs
September 2021
Αugust 2022
European University of Cyprus
European Project "Convicts Upskilling Pathways"
Research Associate
January 2022
May 2022
University of Cyprus/Department of Psychology
MSc Program in Counselling and School Orientation
Special Academic Staff/Special Scientist
January 2022
Μay 2022
Neapolis University
Distance Master Program in Educational Psychology
Special Academic Staff
February 2022
Now
Private Practice as a Registered Clinical Psychologist
June 2018
July 2019
Resilient Lives
Research Associate
January 2017
June 2018
Centre for Sustainable Peace and Democratic Development (SeeD), Λευκωσία Κύπρος
Data Analysts
4. Scholarships and Awards
| | |
| --- | --- |
| Μarch 2021 | Award «ΕΥ Cyprus» memorial of Xristias Rossidou-Sotiriou (2000 euros) |
| June 2019-December 2022 | Evagoras' Scholarship for Doctorate Students of University of Cyprus (for three years, 8 000 euros per year) |
| June 2018 | Award of Best Poster Presentation in 6th Conference of European Association of Child and Adolescent Psychology: "Young victims and young offenders: Prevention and intervention within families and institutions (500 euros) |
5. Teaching
January -May 2022
University of Cyprus/Department of Psychology
MSc Program in Counselling and School Orientation
SΥΜ 605: Vocational Guideline and Counselling
January -May 2022

Neapolis University

Distance Master Program in Educational Psychology

PSCH 605: School Environment and Gender Identities during adolescence

PSYCH 607: Statistics and Research Methods

September- December 2021
Theological School of Church of Cyprus
THEO.130. Personal Communicational Skills
September 2016 -Μay 2021
University of Cyprus/Department of Psychology
Bachelor's Degree in Psychology
PSΥCH 101:Developmental Psychology, PSYCH 103: Clinical Psychology I- Personality Theories, PSYCH 220: Clinical Psychology ΙΙ- Psychopathology, SΥΜ 201: Research Methods
6. Administrative Duties
2017-2018Coordinate of Doctorate students for their Internship in Mental Health Center of the University of Cyprus
7. Member of Research Boards and Professional Services
| | |
| --- | --- |
| June 2022 | Elected Member of Young Researcher Committee of EUROPEAN ASSOCIATION FOR RESEARCH ON ADOLESCENTS (EARA) |
| January 2017- Now | Member of Scientific Study of Psychopathy- SSSP) |
| January 2017-Now | Member of Cyprus Psychology Association |
| October 2016-May 2020 | Representative Member of Doctorate Students in Clinical Psychology of University of Cyprus |
8. Member of Conference Organising Committees
9. Reviewer for Journals
10. Research Programmes – Funding
| | |
| --- | --- |
| 2018-2022 | The research program "Neurophysiological Patterns of Anxiety, Antisocial Behavior, and Callous-Unemotional-Traits. The effectiveness of HRV Biofeedback training with video games" was funded by Cyprus Youths Organization with the amount of 3 975 euros |
11. Memoranda of Understanding
12. Research Interests
Child and adolescents internalizing and externalizing problems, neurophysiological assessment, emotional processing/ regulation, HRV Biofeedback Intervention.
Design and Implementation of prevention and intervention programs for school violence, youth delinquency reduction, as well as crime resistance for detainees.
13. Publications
Petridou, M., Fanti, K.A., (under review). The effectiveness of HRV Biofeedback training with the video games on externalizing and internalizing problems. Journal of applied psychophysiology and biofeedback.
Fanti, K.A., Kyranides, M.M., Petridou, M., Demetriou, C.A., Konikkou., & Georgiou, G. (under review).
Physiological reactivity to fear Moderates the Relation Between Parenting Distress and Antisocial
Behaviors. Child Development.
Kyranides M.N., Petridou, M., Gokani, H.A. Him, S., & Fanti, K. A. (2022). Reading and reacting to faces, the effect of facial mimicry in improving facial emotion recognition in individuals with antisocial behavior and psychopathic traits. Current Psychology, 1-14.
Costeris, C., Petridou, M., & Ioannou, Y. (2021). Social Support and Appearance Satisfaction Can Predict Changes in the Psychopathology Levels of Patients with Acne, Psoriasis and Eczema, before Dermatological
teatment and in a Six-Month Follow-up Phase. Psych, 3(3), 259-268.
Costeris, C., Petridou, M., & Ioannou, Y. (2021). The critical role of body dysmorphic disorder in dermatological patients' body image: patients' desire to seek even more medical treatments increases
after dermatological treatment. GLOBAL PSYCHIATRY, 4(1), 95-108.
Costeris, C., Petridou, M., & Ioannou, G., (2021). Factors that Predict Patients' Satisfaction with Psychological
Outcome and the Appearance of their skin after treatment. Journal of Clinical & Experimental
Dermatology Research, 12(1), 1-9.
Costeris, C., Petridou, M., & Ioannou, G., (2020). Psychological impact of skin disorders on patients' self-
esteem and perceived social support. Journal of Dermatology and Skin Science,3(1), 14-22. Kyranides, M. N., Fanti, K. A., Petridou, M., & Kimonis, E., (2020). In the eyes of the beholder:
Distinctions in patterns of eye gaze in primary and secondary psychopathy. European Child &
Adolescent Psychiatry, 29, 1441-145. doi.org/10.1007/s00787-019-01452-z
Fanti, K.A., Kyranides, M.N., Petridou, M., Demetriou, C.A, & Georgiou, G. (2018). Neurophysiological biomarkers associated with heterogeneity in Conduct Problems, Callous Unemotional Traits and Anxiety in children and young adults. Special Issue in Developmental Psychopathology, 54(9), 1634-1649. doi.org/10.1037/dev0000505.
Fanti, K.A., Kyranides, M.N., Georgiou, G., Petridou, M., Colins, O.F., Tuvblad, C., & Andershed, H. (2017). Callous-unemotional, impulsive-irresponsible, and grandiose-manipulative traits: Distinct associations with subjective and physiological measures. Psychophysiology, 54(5), 663-672.