Classical Languages Summer School, July 2020
During summer 2020 CLaSS offered six (6) online courses. Each course had a duration of 30 teaching hours (approx. 3 hours daily). Whereas the classes offered in July 2020 were initially designed to be held at the premises of TSCC in Nicosia, due to restrictions related to Covid-19, all courses were taught entirely online (via MS Teams) with both synchronous and asynchronous options available.
The first CLaSS welcomed online twenty-five (25) students from fourteen (14) different countries. Eight (8) students were enrolled on both levels of the language they chose.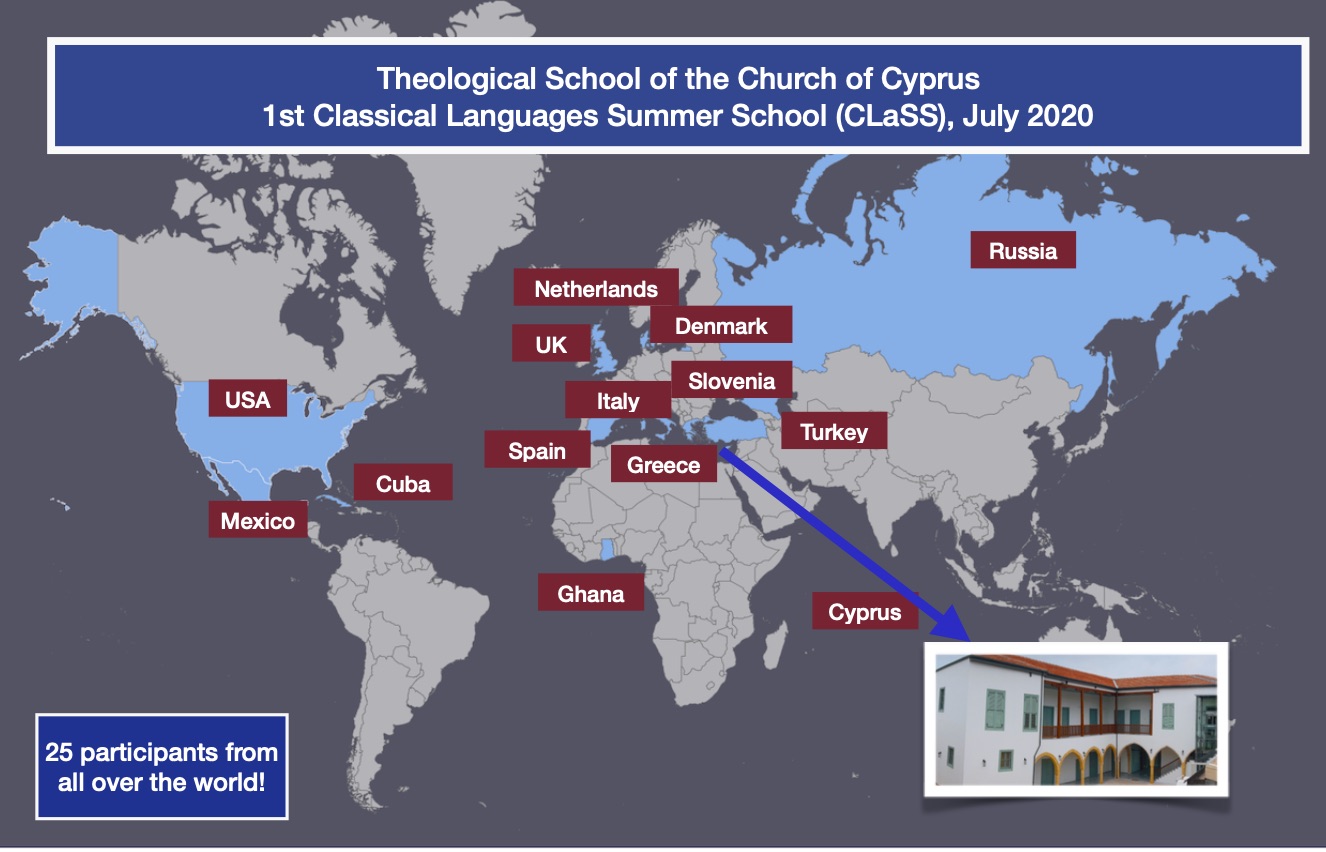 COURSES
SESSION 1 (Weeks 1 & 2): 6-17 July 2020  [online classes]
Classical Greek I (in English)
Classical Greek I (in Modern Greek)
Latin I
 
SESSION 2 (Weeks 3 & 4): 20 – 31 July 2020 [online classes]
Classical Greek II
Latin II
Byzantine Greek Reading Class
WHAT DID OUR STUDENTS SAID…
I enjoyed the experience of getting acquainted with the language and the interaction with my teacher and my fellow students.(Classical Greek I)

The power points were very thorough and made it easy to follow along, as well as review the material afterward. Instructors were patient, kind, knowledgeable, and excellent at answering questions. (Classical Greek I)

I was impressed with how accessible the teachers made the material. It was A LOT to learn in a very short period of time, but they were very encouraging, and made us feel good about our progress. I also liked how everything was organized on Microsoft Teams. At first I thought it would make it more complicated, because I had never used this program before, but it kept everything nice, organized, and in one spot. (Classical Greek I)

I really liked the quizzes and exercises we were given daily to practice with. The weekly assignments and feedback we got from them were also very useful. (Latin I)

I thought the course was very well organised, and the manner of presentation was clear. There were many opportunities for us to be interacting with original texts and I personally found that very rewarding. The teachers always took time to ask us if we had any questions and were very helpful and clear whenever we had questions. Overall, I'm very glad I participated in this course and I thank the Theological School for the opportunity.(Latin II)
EΧΤRA-CURRICULAR LECTURES (July-August 2020)
As part of CLaSS five distinguished scholars gave lectures and led interesting discussions on various topics related to Greco-Roman antiquity and Cypriot culture:
4 July 2020: Dr Maria Gerolemou (Leventis Research Associate in Hellenic Studies, University of Exeter)
"Automata and robots in antiquity"
The ancient world was more technologically advanced than most of us realize. Engineered artefacts were particularly notable, as we know from myths, literature written by ancient engineers and, in some cases, technical artefacts themselves that have managed to survive thousands of years. This paper sheds light on one of the most glorious moments of the ancient art of engineering, the self-moving artefact or automaton.The idea of the moving artefact first appeared in myth in association with gods and artists with magical skills. However, from the Hellenistic period onwards, in light of technological advancements taking place in Alexandria, such stories started to correspond to and perhaps to even derive from the achievements of real technical experts who explained in a scientific way how inanimate matter could be forced to move.
Maria Gerolemou is a Leventis Research Associate at the University of Exeter, Department of Classics and Ancient History. Her research centres on a) ancient Greek drama b) on Wunderkultur, and c) on ancient science, especially on the intersection between ancient technology and literature in classical antiquity. She is currently writing a monograph on the notion of automation in Greco-Roman world.
11 July 2020: Prof. Antonis Petrides (Associate Professor, Open University of Cyprus)
«Modern history of Cyprus (1960-1974): a journey through the eyes of the poets»
The lecture will guide the students on a journey through the modern history of Cyprus, specifically the period 1960–1974 and its immediate aftermath. We shall not explore events so much as attitudes, discourses and traumas refracted through selections from the work of the foremost poets of the period who wrote in Greek: Kostas Montis (1914–2004), Pantelis Michanikos (1926-1979), Michalis Pashiardis (1941–) and Kyriakos Charalambides (1940–). The readings from Montis will showcase standard Greek-Cypriot responses to the Turkish invasion as an outrage (July 20, 1974). The choices from Charalambides will display the harsh realities of displacement and the gaping wound of the hundreds still "missing in action". The poems of Michanikos and Pashiardis will speak about internal (Greek on Greek) and intercommunal strife, as well as the catastrophic cocktail of blind hatred, shameful incompetence and criminal complacency which precipitated the disaster. Montis exposes what can be regarded as the official Greek-Cypriot narrative, a simplistic understanding of the events as an epic story of triumphs resulting from (Greek) Cypriots pursuing their (Greek) 'natural' rights and disasters befalling as a result of foreign incursion presented in effect as unprovoked. Charalambides contributes a more reflective story of human loss with overtones of Greek tragedy. Finally, the poems of Michanikos and Pashiardis flagellate the reader with unforgiving truths about history as a more complex game of actions and reactions, intersecting interests and shared guilt. All poems will be presented in original English translations by the speaker.
 Antonis K. Petrides (BA in Greek Philology, University of Thessaloniki; MPhil and PhD in Classics, University of Cambridge) is Associate Professor in the Programme "Studies in Hellenic Culture" of the Open University of Cyprus and currently the Dean of the Faculty of Humanities and Social Sciences. His research focuses on Ancient Greek literature (mostly drama) and its modern reception and on the Greek literature of Cyprus.
18 July 2020: Prof. Georgios Deligiannakis (Associate Professor, Open University of Cyprus)
 "Cyprus and Cypriots in late antiquity"
In my paper, I am looking at Cyprus and its people as they are portrayed in the framework of the Roman world, highlighting the importance of material evidence but also the valuable contribution of late antiquity to the subject. I will show how Cyprus moved from the margins to the mainstream during late antiquity and why the fourth and fifth centuries mark a fundamental break with the island's past.
George Deligiannakis is a graduate of the Department of History and Archeology (School of Philosophy) of the University of Athens (1999). He completed his M.Phil. postgraduate studies at the University of Oxford (2002) and in 2007 he was awarded a Ph.D. in Ancient History from the same university. He taught as Lecturer in the Department of Philology at the University of Patras (2007-2008), while in 2008 he was appointed Lecturer and then Assistant Professor (2012) and Associate Professor (2017) of Late Antiquity at the Open University of Cyprus. He has published about fifty articles and studies in international scientific journals and collective volumes. His latest monograph entitled The Dodecanese and the Eastern Aegean Islands in Late Antiquity, AD 300-700, was published by Oxford University Press. 
25 July 2020: Dr Charilaos Michalopoulos (Assistant Professor, Democritus University of Thrace)
  "Statues in Roman literature: the viewer, the object and the space between"
Sculpture formed an integral part of everyday life in Rome. Statues were exhibited both in public spaces (like fora, basilicas, theatres, temples) and in the private sphere (houses, private gardens, villas etc.). This paper discusses statues not as three-dimensional representations (art objects in their own right) but rather as 'literary realities'. By this I refer to statues used primarily (if not exclusively) as literary material, as narratives, as stories subject to expansion, condensation, and/or any other kind of literary adaptation. My approach also includes the exploration of the statuesque, i.e. figures/bodies which could be regarded as statues either because they are described as such or because they possess qualities (such as muteness, stillness, lifelessness, likeness) which allow us to perceive them as statues. Sculptural encounter as a theater of power/language/gender dynamics, speaking/moving statues, agalmatophilia, violent responses to/from statues will be some of the topics we will touch upon as we are guided through selective readings from Ovid and the Priapea.
Dr Charilaos N. Michalopoulos (BA Classics: Aristotle University of Thessaloniki, MA & PhD Latin: University of Leeds) is Assistant Professor of Latin at the Department of Greek Philology at Democritus University of Thrace. He is the author of Myth, Language and Gender in the Corpus Priapeorum (Athens, 2014). His recent publications include textbooks on Roman Love Elegy, Roman Epic, Horace's Odes and several articles in journals and collected volumes on Augustan poetry, Roman Epigram, Modern Greek reception of Latin literature, Gender Studies and Classics. He is also deputy research co-ordinator of the research programme Ecocriticism in Latin literature: Nature and Man in Augustan language, literature and thought (Department of Philology, National and Kapodistrian University of Athens, 2020-2021). He is a published poet, translator (esp. Latin and Modern English poetry) and literary critic.
1 August 2020: Revd Kyprianos Kountouris (Assistant Professor, Rector of the Theological School of the Church of Cyprus),
"The Idalion Tablet: The Idalion Tablet: an emblematic bronze tablet from Cyprus, a time capsule and a deciphering tool"
The Idalion tablet was found accidentally in 1849/1850 in a vineyard at a hilltop in Dhali, Cyprus, at a place that was actually the site of the Temple of Goddess Athena, at the west Acropolis of Ancient Idalion. Little was known then about the history of Ancient Idalion, let alone the unique history inscribed on this double-faced bronze tablet. Nonetheless, the "gold rush" for Cypriot Antiquities had begun. The peasant who recovered the tablet sold it to a French collector in Larnaca, who eventually presented it to Honoré d'Albert, duc de Luynes, in Paris.  In 1852, duc de Luynes published a book of his collection of coins and inscriptions called: "Numismatique et inscriptions Cypriotes", where he included the tablet. This was the founding volume of the Cypriote epigraphy. In his monograph, the Duke of Luynes suggested for the first time the existence of a distinct writing system, unique to Cyprus. In 1862 duc de Luynes donated his collection of ancient coins, medals, engraved stones and Greek vases to the Cabinet des Médailles of the Bibliothèque nationale de France. Thus the famous tablet became property of the French Republic. Ten years later George Smith, a cuneiform expert of the British Museum, suggested a number of correct sign values based on a recently recovered inscription, again from Idalion and read the word "king" in Greek. The unknown text was eventually Greek. The Tablet offered the longest surviving text of what was to be known as the Arcado-Cypriot Syllabary. The complete decipherment was reached within a period of five years. The story that was inscribed on the Idalion tablet is amazing. The tablet itself served as a deciphering tool, a time capsule and became an emblem for many causes.
Protopresbyter Kyprianos Kountouris is Αssistant Professor of History of Education and Culture at the Theological School of the Church of Cyprus. He is also the Director of the School. He has worked for three decades in Primary Education, serving as a school Ηeadmaster in the United Kingdom and Cyprus. He has been actively involved in a great number of projects and has amble experience in the implementation of innovative programs and research projects. He received his PhD from the Department of Education of the University of Ioannina, Greece (2015) with a thesis entitled "Contribution to the History of Pre-Primary, Primary and Secondary Education of Greek Community Schools in Great Britain (20th century). A Case Study: The Greek-Orthodox School of Ayios Demetrios, North London". He also holds an MA in Teaching History from the Institute of Education, University of London (1995). His dissertation emphasised in the use of Museums in History Education, with particular reference to the establishment of an interactive museum in the village of Idalion, Cyprus. He also holds a Diploma in Education (1992) from the same university. He graduated from the Pedagogical Academy of Cyprus with a Teacher's Degree (1985). He is currently conducting postdoctoral research at the National and Kapodistrian University of Athens, on the Codex of Ayios Andronikos Church, in Dali, Cyprus. He has presented papers at international and local conferences. During his service at the primary education sector Revd K. Kountouris designed, developed and run an interactive museum education programme at the newly founded then (2008) Archaeological Museum of Ancient Idalion. He founded the «Local History Society – Kypros» through which he collaborated with Professor Patrick Callet for the 3D digitization of the Tablet of Idalion, the creation of a virtual and accurate replica of the Tablet shape, and, by rapid prototyping, the formation of a physical copy of the Tablet for casting with bronze. 
CLaSS STAFF, July 2020
CLaSS DIRECTOR: Dr Maria Pavlou (m.pavlou@theo.ac.cy)

Dr Maria Pavlou is Lecturer of Ancient Greek Language and Literature at the Theological School of the Church of Cyprus. She teaches at the Undergraduate Programme of Theology and is also responsible for the School's Public Relations and Quality Assurance. Dr Pavlou read Classics at the Aristotle University of Thessaloniki (BA, 1997-2002) and Leeds University (MA, 2003). She received her PhD from the University of Bristol, UK (2003-2007) with a thesis titled "Time in Pindar". She has recently received an MSc in Digital Education from the University of Edinburgh (2018); she also holds Diplomas in Distance Learning from the London IOE and Oxford University. From 2005 onwards she worked as a Teaching Fellow / Adjunct Lecturer at the University of Bristol (2005-2009), the University of Cyprus (2014-2018), and the Open University of Cyprus (2010-2013 & 2018), and was involved in a number of research projects at the University of Cyprus (2010-2011) and the Open University of Cyprus (2012-2015). She has published several articles in peer-reviewed journals and collective volumes and is the co-editor (with Prof. Vayos Liapis and Prof. Antonis Petrides) of Debating with the Eumenides (Cambridge Scholars 2018). Currently she is co-editing (with Prof. Antonis Tsakmakis and Dr Eleni Kaklamanou) the collective volume Framing theDialogues: How to Read Openings and Closures in Plato, to be published by Brill in 2020.
CLaSS CO-ORDINATOR: Dr Chrysanthi Demetriou (chrysanthi.demetriou@ouc.ac.cy)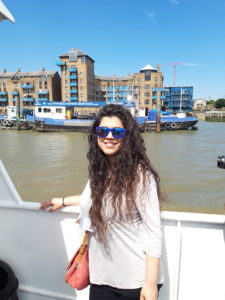 Chrysanthi Demetriou studied Classics in Cyprus and received her MPhil from the University of Cambridge (funded by Cambridge Trusts) and her PhD from the University of Leeds (funded by a Leeds University Research Scholarship). She teaches at the Open University of Cyprus, where she has been an Adjunct Tutor and course co-ordinator of Latin (the first—and only—online Latin course in Modern Greek) since 2012. She has also taught Latin at the University of Cyprus (2014-2019) and several Greek and Latin courses at the University of Leeds (2008-2011) and the English School, Nicosia (2011-2012). She specialises in Latin literature and her research and teaching interests primarily revolve around Roman comedy, ancient commentaries and scholia, the reception of classical (Latin) literature in Late Antiquity and the Middle Ages, as well as the position of Latin in education, from antiquity to the present (including online education). She has co-edited a volume (Plautus' Erudite Comedy, 2020, with Prof. S. Papaioannou) and written several articles and book chapters on these topics. She is a member of the international research network RELICS, based at the University of Ghent (https://relicsresearch.com/), and member and co-ordinator of the editorial board of the Journal of Latin Cosmopolitanism and European Literatures (https://jolcel.ugent.be/).
INSTRUCTORS
Dr Maria Constantinou

Maria Constantinou studied Classics at the University of Cyprus (BA) and the University of Edinburgh (MSc and PhD, both funded by the School of History, Classics and Archaeology). She has taught several courses of Ancient Greek and Classical Civilisation at the University of Edinburgh (2008-2011), at the Hellenic School of St. Andrew and at Fettes College in Edinburgh (2014-2016), as well as at the Open University of Cyprus (2018). She has been a postdoctoral researcher in the ERC Starting Grant project 'The Proceedings of the Ecumenical Councils from Oral Utterance to Manuscript Edition as Evidence for Late Antique Persuasion and Self-Representation Techniques' at the University of Bamberg, Germany (2016-2020). In this framework, she has prepared an annotated English translation of the Acts of the Synods of Constantinople and Jerusalem 536 and written articles on the acts of late antique church councils. Her research interests also include Classical and Hellenistic literature and religion, and she is currently preparing a monograph on Demeter in Hellenistic poetry, based on her PhD thesis.
Dr Chrysanthi Demetriou
(see above)
Dr Christina Hadjiafxenti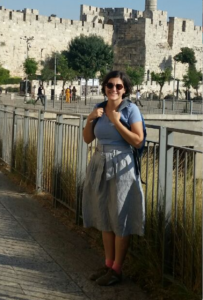 Christina Hadjiafxenti studied Classical Philology at the University of Cyprus and then she obtained her MA (Programme: Classical Antiquity: "History and Literature") at the University of Leipzig (2010-2011 DAAD-Scholarship), where she also received her PhD in Byzantine Philology with the thesis "The saint-encomia by Nicolaos Cabasilas. Introduction, critical edition and translation." (2011-2014 DAAD-Scholarship). At the University of Leipzig she also gave several lectures on Ancient and Byzantine Greek language. From 2015 to 2017 she had a postdoc-scholarship at the Leibniz Institute of European History in Mainz. (Subject of the research programme: "The reception of Byzantium in the Church Historiography of the 19th century. A comparison of Greek and German sources.") From September 2018 to April 2019 she worked in the research programme "Βyzart: Byzantine Art and Archaeology" of the Open University of Cyprus. As of January 2020 she teaches Byzantine Literature at the Theological School of the Church of Cyprus and she is research assistant in the Department of Modern Greek and Byzantine Studies of the University of Cyprus in the research programme "ThaumArt". She specialises in Byzantine Greek literature, Greek Palaeography and critical edition of texts from the Late Byzantine Period. Also, her research interests revolve around miracle collections from the Byzantine period and the reception of Byzantium in the Greek and German church historiography and school books from the 19th century, as her publications and conferences' participation indicate.
Dr Despina Keramida
Despina Keramida studied Classical studies at the University of Cyprus (2007) and obtained her MA in Classical studies, as well as her Ph.D. at the University of Leeds (2012). She is currently employed as a Research Fellow (Department of Classics & Philosophy, University of Cyprus), working on a research programme titled "The Reception of Ancient Cyprus in the Culture of the Western World" (Excellence Hubs, funded by the Research & Innovation Foundation). She has worked as a Teaching Assistant at the University of Leeds (2009–2011), as an Adjunct Tutor at the Open University of Cyprus (2016) and as a Teaching Fellow at the University of Cyprus (2014-2019) teaching modules on Latin language and literature. She has also worked as a Research Fellow for the needs of the research programme "Concepts and Functions of European Philhellenism in the era of the Restoration (1815–30)" (Department of French and European Studies, University of Cyprus, 2015–2016). Her research interests include female portrayal in Augustan poetry (in particular Ovid), emotions in antiquity, as well as Greco-Roman culture and religion, as indicated by her publications and paper presentations in workshops and international conferences.
Dr Chrysovalantis Kyriacou 

Dr Chrysovalantis Kyriacou is Teaching Associate at the Theological School of the Church of Cyprus, specialising in the field of ecclesiastical history. He has taught Byzantine history as Teaching Associate at the University of Cyprus. Dr Kyriacou is Research Associate of the Hellenic Institute at Royal Holloway, University of London, the Bank of Cyprus Cultural Foundation and the European University Cyprus. He has participated in conferences in Cyprus and abroad. He is author of the book Orthodox Cyprus under the Latins, 1191–1571: Society, Spirituality, and Identities (Lexington Books: New York–London, 2018).
Dr Eva Polyviou
Dr Eva Polyviou holds of a PhD in Ancient History and Culture (Université de la Sorbonne – Paris IV, 2008), a Master's degree focused in Ancient History and Epigraphy (University of London – UCL, 1999) and a Bachelor in Classics (University of Cyprus, 1994-1998). She also holds certificates in Integrating ICT in Subject Based Learning and in Using 'Second Generation Tools' in the Teaching of Classics from the University of Cambridge and has recently completed training in Digital Humanities at the University of Oxford (Keble College, 2018).  From 2005 onwards she has been teaching Greek and Classical Civilisation at the English School Nicosia.  She has also cooperated as a research fellow with the University of Padua in Italy (2003-2005) and has taught as an adjunct lecturer at the University of Cyprus, Department of History and Archaeology (2007-2009).  She has published several articles in international journals and conference proceedings and has recently co-edited (with Aspasia Skouroumouni Stavrinou) the volume Classics in the Secondary Education (Cyprus Pedagogical Institute, 2018). 
Dr George Kazantzidis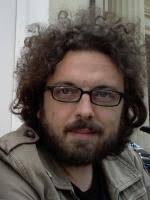 Dr George Kazantzidis (BA: Thessaloniki; DPhil: Oxford) is Assistant Professor of Latin Literature at the University of Patras. His interests lie in the intersections of ancient medicine and literature, with an emphasis on the history of mental illness and the emotions. His book Lucretius on Disease: The Poetics of Morbidity in De rerum natura will appear by the end of 2020.