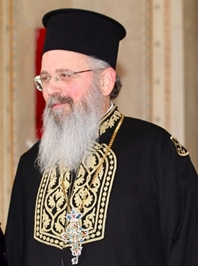 Archimandrite Nikolaos Ioannidis
Professor
Theological School of the Church of Cyprus
Isokratous 1-7, 1016 Nicosia, Cyprus

Tel: 22443055

Fax: 22443050

Email: n.ioannides@theo.ac.cy
Profile:
Archimandrite Nikolaos Ioannidis is a retired professor of the Department of Theology of the Theological School of the National and Kapodistrian University of Athens. He is currently a professor of Patrology at the Theological School of the Church of Cyprus. He has participated as a speaker at numerous conferences both in Greece and abroad. He has supervised several post-graduate and doctoral dissertations and has participated in numerous three-member and seven-member supervising committees of post-graduate and doctoral dissertations, as well as in many three-member commissions and electoral bodies for the evaluation and promotion of Lecturers, Assistant, Associate and Regular Professors at PSPA, EPS and the Theological Faculty of the University of Belgrade. For a number of years he has been a member of a series of Synodal Committees of the Church of Greece (Divine Worship and Pastoral Work and Liturgical Renewal). He has served as Chairman of the Governing Committee of the Athens Higher Ecclesiastical Academy for a decade. He has been honoured by the Patriarchate of Moscow with the medal of St. Sergius and by the Church of Greece with the highest distinction, the "Golden Cross of St. Paul".
Studies:
Ph.D. (cognitive subject: Patrology) entitled "Joseph Vryennios, Life-work-teachings", University of Belgrade, Theological School, 1981.
Bachelor of Theology, Institut de Theologie Orthodoxe de Paris, Établissement universitaire, Paris 1974.
Elève titulaire, Sorbonne, École Pratique des Hautes Études, Section of Sciences Religieuses (Christianismes Byzantin et Slave, Paléographi, Histoire et critique des texts).
Research interests:
His research interests focus on the teachings of the Fathers and the Ecclesiastical Writers, mainly of the latter Byzantine period, as well as on functional issues related to the teachings of the Fathers of the Church.
Selected Publications:
Ο Ιωσήφ Βρυέννιος. Βίος-έργο-διδασκαλία, Αθήνα (1985 και β΄ έκδ. 1999 και στα Σερβικά 1997), σσ. 441. (Μετάφραση στη σερβική γλώσσα από την Εταιρία Φιλοσόφων και Κοινωνιολόγων Μαυροβουνίου (Društvo Filosofa i sociologa Cerne Gore), του Πανεπιστημίου του Νίκσιτς, στη σειρά "Φιλοσοφική Αλήθεια" με τόν τίτλο Bog, Čovek, Spasenje. Život, dela i učenie Josifa Brijenija, Nikšić 1997, σσ. 378.
Ο Ι­ε­ρο­μό­να­χος Ι­ε­ρό­θε­ος (ΙΓ΄ αι.) και το α­νέκ­δο­το συγ­γ­ρα­φι­κό έρ­γο του, Κριτική έκδοση, Α­θή­να 2003, σσ. 239.
Ο Νικηφόρος Βλεμμύδης και η περί εκπορεύσεως του αγίου Πνεύματος διδασκαλία του, Αθήνα (2006 και β΄ έκδ. 2010), σσ. 349.
Θεολογία και Γραμματεία από τον Θ΄ αι. και εξής, (Αθήνα 2007, σσ. 671· β΄ έκδ. συμπληρωμένη 2009, και γ΄ έκδ. 2014).
Μελετήματα πατερικής και αντιρρητικῆς θεολογίας, έκδ. ΕΝΝΟΙΑ, Αθήνα 2011, σσ. 414.
«Sukob sholastičkog humanizma i pravoslavnog palamizma u Vizantijskoj misli 14. veka», Glasnik, Beograd 10 (1982), σσ. 250-257.
«Isihasticki pokret u XIVom veku», Teološki Pogledi, Beograd 4 (1983), σσ. 181-189).
«Σχέσεις Εκκλησίας Κωνσταντινουπόλεως και Ρωσίας κατά τον ΙΕ΄ αιώνα (Ιωσήφ Βρυέννιος – Φώτιος Κιέβου – Βησσαρίων)» Επιστημονική Επετηρίς της Θεολογικης Σχολης του Πανεπιστημίου Αθηνών, ΛΓ΄ (1998), σσ. 453-464.
"Tέσσερεις ομοϊδεάτες του Αγίου Γρηγορίου Παλαμά και η διδασκαλία τους περι θείας ουσίας και ακτίστων ενεργειῶν και εκπορεύσεως του αγίου Πνεύματος", Επιστημονική Επε-τηρίς της Θεολογικής Σχολής του Πανεπιστημίου Αθηνών, ΛΓ΄ (2000), σσ. 345-391.
«Η εορτή των Χριστουγέννων–Θεοφανείων», Το Χριστιανικόν Εορτολόγιον. Πρακτικά Η΄ Πανελληνίου Λειτουργικού Συμποσίου, Αθήναι 2007, σσ. 129-185.
«Τα Εσχατα στις Α΄ και Β΄ προς Κορινθίους Επιστολές του Απ. Παύλου κατά τον Ευθύμιο Ζιγαδηνό», Απόστολος Παύλος και Κόρινθος. Πρακτικά Διεθνούς Επιστημονικού Συνεδρίου (Κόρινθος, 23-25 Σεπτεμβρίου 2007), τόμος Πρώτος, Αθήνα 2009, σσ. 683-733.
«Crkovnata katihiza v svremennija svjat», Crkvata i svremennoto obtstvo, Pravoslavna bogoslovska konferncija, Ruse 2005, σσ. 24-30.
. «Sviatoi Grigorij Palama o božestvennoi sušnosti i božestvennijh energijah», Hristianskaja Misl, Kievskoe Religiozno–Filosofskoe Obšestbo, Kiev 2006, σσ. 12-17.
«Νικόλαος Καβάσιλας και Συμεών Θεσσαλονίκης οι θεμελιωτές της θεολογίας της βυζαντινής λατρείας», Πρακτικά Ι΄ Πανελληνίου Λειτουργικού Συμποσίου (Βόλος, 20-22 Οκτωβρίου 2008), Αθήναι 2009, σσ. 315- 393.
«Οι ακολουθίες του Νυχθημέρου στον άγιο Μάρκο Ευγενικό και στόν άγιο Συμεών Θεσσαλονίκης», Πρακτικά του ΙΕ΄ Πανελληνίου Λειτουργικού Συμποσίου (Καισαριανή, 20-24 Σεπτεμβρίου 2014), Αθήναι 2015, σσ. 315-393.
«Η τιμή των ιερών Λειψάνων», Πρακτικά του ΙΣΤ΄ Πανελληνίου Λειτουργικού Συμπο-σίου (Λαμία, 19-24 Σεπτεμβρίου 2016), Αθήναι 2017, σσ. 219-253.