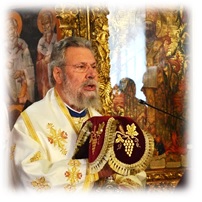 Address of the Archbishop New Justinian and All Cyprus, Chysostomos II, Founder and President of the Council of the Theological School of the Church of Cyprus.
The Theological School of the Church of Cyprus, hand-in-hand with the Holy Archdiocese of Cyprus, takes its first steps just like a child under the care of its mother. The Church of Cyprus has not only preserved the pure apostolic tradition and conveyed the absolute truth of the Gospel, but has always stood as a "weeping martyr" at the side of God's congregation and every tormented individual. It has played throughout the centuries, and will always play, not only at the level of individual righteousness but also in the field of religious education, a vital role in inviting everyone to taste from the joyful table of their Lord.
The founding of this School serves a growing need of the Church of Cyprus to establish its own nurturing ground for theological education. We look forward to its development within the scope of the Church of Cyprus, both at an inter-Orthodox and inter-Christian level, and to the relationships that it will foster with similar schools, and to its cooperation with our sister Orthodox Churches near and far.
The Church of Cyprus today is proud of having a highly educated and cultivated congregation with a very able and humble clergy, who serve the Church with devotion. The modern-day needs of our people require a modern approach. Therefore, the establishment of our School aims to prepare theologically qualified clerics who can not only provide their services to the Church of Cyprus but to Orthodoxy in general. In addition, it aims at preparing theologian-educators for secondary education and instruction, educators who can contribute to social work and engage in cultural and religious organizations, as well as training candidates in the Theological sciences and related sciences at postgraduate level.
We welcome the permanent members of the Teaching and Research Staff (T.R.S) to our new-born Theological School of the Church of Cyprus in which they will serve, we also welcome the esteemed academics who accepted invitations to teach at our School, members of the T.R.S. who will work in the capacity of "Associate Short Term Academic Staff" and who will accompany us on our journey. Lastly, we would like to welcome all the students who to us shall be like "seedling olive trees around thy immortal table".
Holy Archdiocese of Cyprus
22 June 2015